Audiologists and Staff
Sonya Pysh - Office Manager
Sonya Pysh is our Office Manager and Surgery Coordinator.  She is a University of Georgia graduate and has worked in various areas of the medical field for several years.  She currently lives in Johns Creek and loves spending time in Atlanta.  Sonya enjoys traveling both domestically and internationally, fitness classes, live music and spending time with friends and family.  
---
Alicia Bernstein, M.S., CCC-A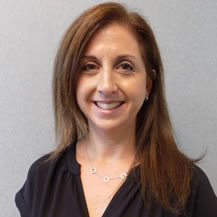 Alicia Bernstein received a Master of Science in Audiology in 1998 from Miami University in Oxford, Ohio. Upon obtaining her Master of Science degree, she completed her clinical fellowship year. Her fellowship year was split between a hospital and private Otology practice in Detroit, Michigan. Ms. Bernstein has gained a variety of experiences and extensive knowledge in a board scope of audiology services. She is skilled in the diagnosis and management of hearing loss and balance disorders in both adults and children. Additionally, Ms. Bernstein is experienced in testing for auditory processing disorders and Universal Hearing screenings.
Ms. Bernstein is licensed to practice in the state of Georgia and is certified by the American Speech Language and Hearing Association (ASHA).
---
Dana Heath, M.S., FAAA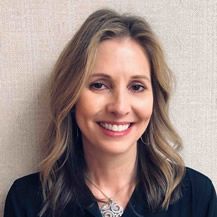 Dana Heath is a clinical Audiologist licensed in the State of Georgia. She received her Bachelor of Science degree at the University of Southern Mississippi in Speech and Hearing Science and her Master of Science at the University of Mississippi in Communicative Disorders-Audiology in 1993. She earned her certificate of clinical competence (CCC-A) from the American Speech-Language Hearing Association in 1993. She is a fellow of the American Academy of Audiology and a member of the Georgia Academy of Audiology.  Her clinical experience is broad as she has worked in a large hospital setting and has been part of a multidisciplinary team in a Neuro-otology practice for the past 20 years. Her clinical experiences include central auditory processing disorder testing, infant and neuro-diagnostic ABR, VNG, c-VEMP, o-VEMP, electrocochleography, tinnitus counseling and hearing aid fittings.
Dana attends educational seminars to maintain her licensure and expertise in Audiology and keeps current with the latest advancements in hearing aid technology. She is dedicated to helping her patients achieve the very best possible hearing outcome from amplification.
---
Lauri Kapuista, M.A., CCC-A
Lauri Kapusta has a B.A. in Communication Disorders and an M.A. in Audiology, both from the University of Pittsburgh. She has been practicing Audiology in an ENT setting for more than 25 years, and is especially interested in Diagnostic Testing and Hearing Aid Dispensing.
She is a Fellow in the American Academy of Audiology, a member of American Speech and Hearing Association, and Georgia Academy of Audiology. She holds a dual Audiologist License for Georgia and Pennsylvania.
She enjoys pursuing continuing education in Audiology to keep abreast of new technology and improvements in Hearing Amplification to improve the communication needs of her patients. She is married with three grown children and enjoys reading, travel, and power walking!
---
Kay Martin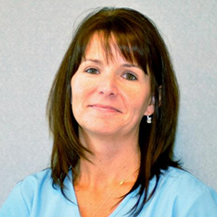 Kay Martin is our lead Medical Assistant.  She has worked in the ENT field for over 20 years and with Dr. Yanta personally for over 15 years. She currently lives in Cumming with her husband and two Yorkies, Diesel and Turbo. Kay loves the outdoors and spending time with family.  She has two beautiful daughters, one is married with two children and the other is at university studying Elementary Education.
---
Lauren Hainess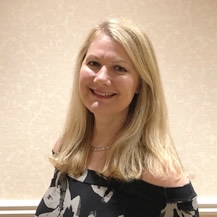 Lauren Haines joined our practice in 2017 as our Front Office Patient Care Representative. She brings 25 years of corporate business experience as well as 17 years of community service where she worked closely with children, parents and seniors as an active civic leader and Service Unit Director with Girl Scouts of N.W. GA. She lives in Roswell with her husband and two daughters. Lauren enjoys playing tennis, traveling and hiking with her family.
---
Hannah Koehn
Hannah Koehn works at our practice as our Front Office Patient Care Representative and Administrative Assistant.  She graduated from the University of North Georgia with a B.S. in Biology and a focus in Pre-veterinary Medicine. Outside of work Hannah enjoys horseback riding, traveling and going on hikes with her dog, Yasha.
---
Emily O'Brien
Emily O'Brien is a medical assistant at our practice. She attended Southern Methodist University for her undergraduate education, and while living in Dallas began working in Family Medicine and then Dermatology. She loves helping provide compassionate care to patients and their families, and hopes to continue her medical education by attending PA school in the future. Outside of the office Emily enjoys teaching yoga, spending time outdoors, and volunteering in medically underserved communities.